One decision that I made in September 2006 was to embark on the trend of Google Adsense marketing, i.e. building content websites to make money with Adsense.
3 years have past. This month, September 2009, I broke my first $200 a day in my Adsense account. See my account screenshot below: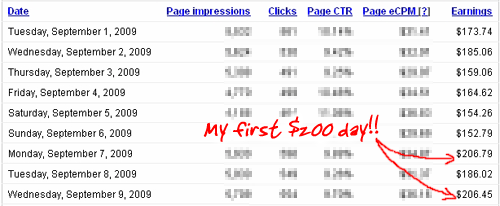 One year ago, in September 2008, I would be happy to see a $100-day Adsense earning. See my September 2008 screenshot below: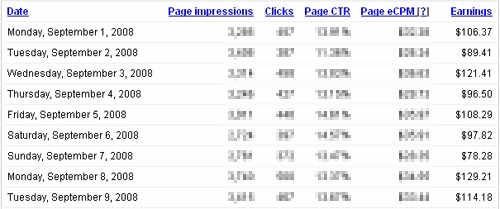 Though I make more money from other online businesses, if you ask me which business is my favourite, I'll tell you it's Adsense marketing!
Here's why I prefer Adsense marketing over all my other online businesses……
Step 1: I don't have to worry about the day-to-day customer support, client support etc. Almost no maintenance required.
Step 2: I can ignore my Adsense sites for months (or perhaps years) if I choose to.
Step 3: The traffic to these Adsense sites seems to increase every month (100% SEO traffic). With my busy schedule everyday, I hardly have time to promote these sites, not to mention adding more contents.
Step 4: Last but not least, my earnings from Adsense marketing seem to keep on increasing months after months, even during one of the worst economic crisis!
With the economy recovering, I have no doubt that one day, Adsense marketing will become my main source of income.
For those of you who are keen to take on the path of Adsense marketing, let me share with you some of my pitfalls and blessings in Adsense marketing.
My Pitfalls In Adsense Marketing
Step 1: Believing that those plug-and-play Adsense marketing programs are better
During the initial months when I started on Adsense marketing, I doubted if my method was correct. I bought into several plug-and-play Adsense marketing programs by those experts in the industry, thinking that they know better.
I wasted a few months and some money in those programs. Since then, I stopped thinking that the grass is greener on the other side!
Step 2: Expecting every site to do equally well
I was lucky to have my first 2 or 3 sites turn out to be successful. But subsequently, I had many sites that were not performing as well as I expected. Being doubtful and ensure, I purchased more books and tried other tactics. That was bad because new tactics slowed down my momentum and those sites built with the new tactics have different layout and are hard to mass-manage now.
Now I am 'immune' to failed sites. Just keep building and keep promoting the same way that I used to do. Some will become a cash cow soon; some may take a year, some may never. I learn to treat my Adsense sites as an integrated business. So long as the total earnings grow, I'm not worried about the performance of individual site.
More...
Also consider the idea of owning your own customer helpdesk, read more...
http://profitsdesk.com
Greg.

Check out my own HelpDesk here
.
Visit here for: Online Income, Advertising, Marketing and Traffic Generation Resources
Keywords: Advertising+Marketing, Online+Income
Traffic+Generation, Free+Advertising,